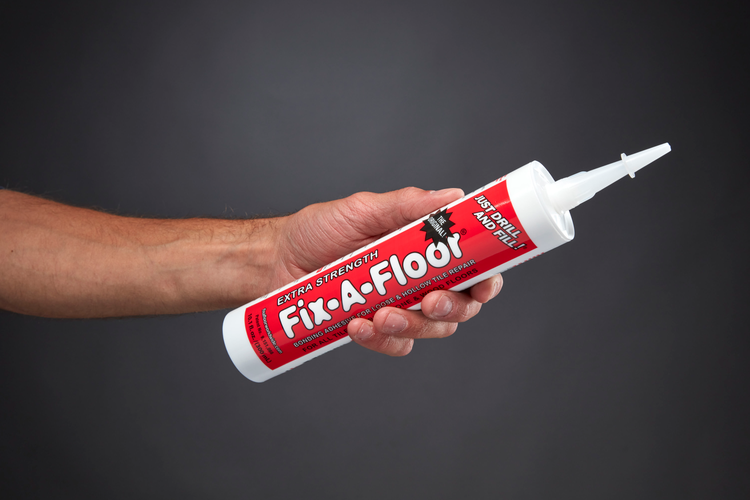 Fix-A-Floor Extra Strength Bonding Adhesive for Loose and Hollow Tile Repair
 Extra strength bonding adhesive for loose and hollow tile repair
What is a Fix-A-Floor Adhesive? 
Our easy-to-use Fix-A-Floor Repair Adhesive is a strong bonding adhesive for re-bonding loose and hollow tiles as well as marble, stone and creaky wood floors without the need for removing or replacing them. You can fit the patented customisable tip that comes with the adhesive to any sized hole you'll drill, allowing for complete coverage and minimal waste as it retains any unused adhesive. 
How do you use Fix-A-Floor Adhesive? 
Using our Fix-A-Floor Adhesive is simple. After you've drilled the desired size of holes in the grout around the tiles, use the all-in-one micro injector kit loaded with the adhesive and inject it into the holes. The only tools you'll need will be a drill, a caulking gun, a small batch of grout and, of course, our amazingly strong Fix-A-Floor Adhesive.  
Need more guidance? Check out our how-to guide or our YouTube channel to learn more! 
Fix-A-Floor Adhesive Product Range 
We have a diverse range of products to suit various floor and wall tile repair needs. For small, DIY floor repairs, we have our single 10fl oz tube of creaky floor adhesive and large 30fl oz tubes although these can only be used with the Large Contractors caulking guns as they are three times the size of a standard adhesive bottle. Both sized adhesive tubes are available in multipacks of 3, 4, 6 or 12 to meet the requirements of your repairs and to also ensure you have plenty of our fantastic floor adhesive on hand.
We have kits to handle all sized grout lines from big to small with our All-in-One Micro Precision Injector Kit with syringe injector, specifically designed for filling extremely small grout lines. Our highly popular Fix-A-Floor 3-litre tub is perfect for those who want an all-in-one solution for storing our adhesive, able to be applied with our Syringes where you need to ensure a more precise and controlled application, or with a refillable caulking gun (not included).  Where you are unsure you can try our full package to repair loose tiles, creaky floors and other flooring issues. Pick up our Fix-A-Floor Pro Repair Pack which contains the reusable Micro Precision Adapter kit, 60ml syringe kit, 10:1 ratio caulk gun, along with three Fix-A-Floor adhesive tubes! Everything you could possibly need! 
The advantages of our flooring adhesive solutions 
A Specialised Formulation: We have won several awards, including the Flooring Innovation Gold award and the Best Product Innovation Award at the annual Tile Association 2023 awards, thanks to our innovative flooring adhesive. Specifically designed to address issues such as creaking, hollowness and loose tiles, our products offer targeted solutions for a wide range of flooring materials.  
Easy Application: Applying our Fix-A-Floor adhesive couldn't be simpler. Along with the 300 ml tube with adjustable tips, you can use our caulk gun to apply the adhesive, or why not try our 60 ml syringe kit for those extra thin grout lines?  
Enhanced Stability: Experience the satisfaction of securely bonded floors, minimising movement and extending the lifespan using the Fix-A-Floor adhesive. When the adhesive sets after just a 24 hours, it is set to last for years to come, providing a permanent solution for loose, hollow or squeaky floor tiles.  
Targeted Solutions for Various Flooring Concerns 
The Fix-A-Floor adhesive is designed to work on a wide array of floor tile materials. It is suitable to be used on porcelain, marble, stone ceramic, wood and even underfloor heated floor areas.  
Creaky Floor Adhesive: No one likes creaking, squeaking floorboards. Solve those annoyances by browsing our range of Fix-A-Floor adhesive tubes and repair kits to provide a quieter more comfortable living space.  
Hollow Floor Adhesive: Floor tiles that have become hollow can be fixed in just a few hours using our specialised adhesive, enhancing their overall integrity and reducing the risk of further damage. 
Loose Tile Adhesive: Learn about our adhesive solution tailored to reattach loose tiles securely, preventing accidents and maintaining the aesthetics of your space. Loose floor tiles can occur for a variety of reasons. These will be solved with Fix-A-Floor.  
Innovation and Awards
We are proud to have designed one of the most popular floor adhesives for flooring issues, with a perfected adhesive formula that is highly regarded the world over. Our humble beginnings of wanting to create an easy-to-use and effective adhesive that eliminates the need to remove or replace your floors, saving our customers time and money!
Since launching in the UK, we have won numerous awards and acclamations, including the Flooring Innovation Gold award at the National Flooring Show in Harrogate in 2018, as well as becoming a finalist for DIY Product of the Year, impressing the trade and flooring industry significantly. We won the Best Product Innovation award at the annual Tile Association 2023 awards where the theme was 'Shaping the Future' now the tiling trade industry recognises Fix-A-Floor as a viable, effective solution to repair flooring where removing or replacing is not an option.
We haven't stopped in just perfecting our adhesive! We have developed some amazing tools to make the process of repairing your creaky, loose and hollow tiles that much easier with more planned in the future.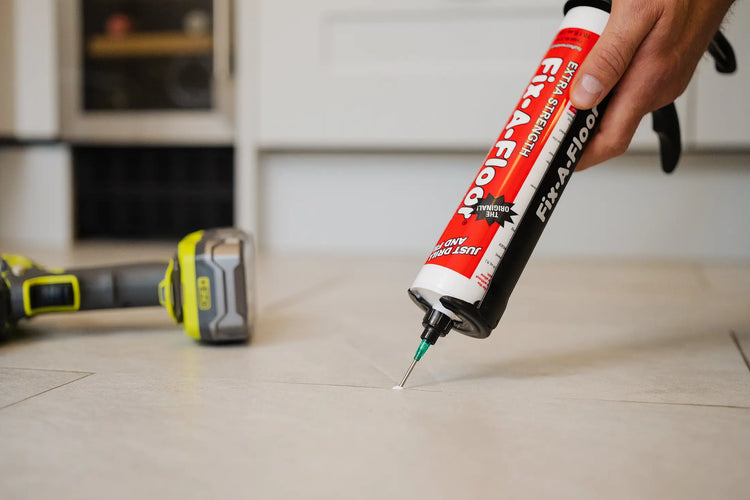 Fix-A-Floor Adhesives
FAQs
How long does floor adhesive last?
Fix-A-Floor will solve loose and hollow tiles for many, many years to come and should last for the lifetime of your floor. Having been around for well over a decade, Fix-A-Floor is a perfect solution to use as an alternative to the costly and messy option of removing or replacing your existing tiles or flooring.
How long does it take for floor adhesive to set?
Fix-A-Floor typically takes between 12-24 hours to set but this can vary depending on several factors. The depth underneath the tile or loose floor you're applying the adhesive will affect the time it takes to cure, as well as the temperature of the room – the colder the room generally means the longer it will take to set. It's also important you place something weighted on the area you have applied the adhesive to ensure proper adhesion takes place between the tile and the substrate.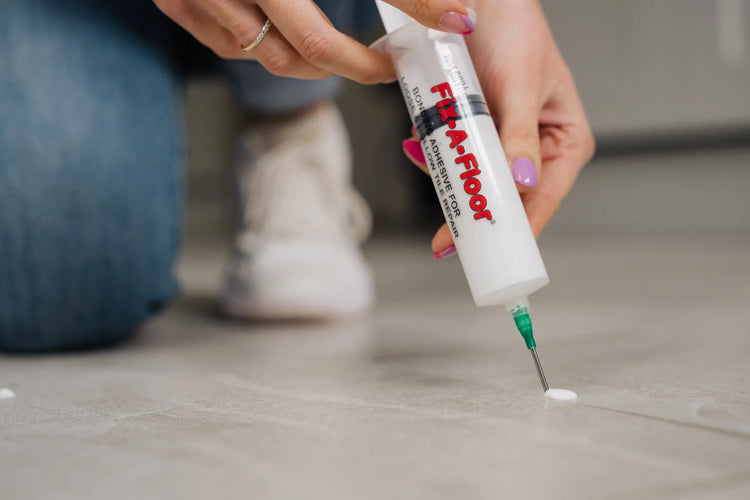 Does exactly what it says!
"Bought it to secure 3 loose tiles that were just laid rather than pull them up and relaying. Would recommend to anyone with the same problem."

Fab product, does exactly what it says.
Bought it to secure 3 loose tiles that were just laid rather than pull them up and relaying. Would recommend to anyone with the same problem, secured the tiles wonderfully, job done
Can't fault it. It worked
Used on a large 600mm by 600mm tile laid on concrete floor. Tile was moving probably due to the grout and tile adhesive coming away.
Applied it 2 months ago- as per instruction. It has not moved since."

Good product, easy to use, clear instructions.
Per previous reviews be careful when removing nozzle from hole at this point still very runny, but a finger over the nozzle stops it. Would agree with other users buy an extra tube , Was very pleased with the end results.
Excellent product, beats any other standard product in mainstream DIY stores.
The difference is this is liquid based and it filters through the hole with any assistance.
Expensive but definitely worth it.
Delighted!
I bought this product for my husband to fix a number of loose and hollow tiles in our bathroom.
He was absolutely delighted with the ease of use and the end result.
He would recommend this product to anyone with this problem as an efficient and relatively inexpensive solution.