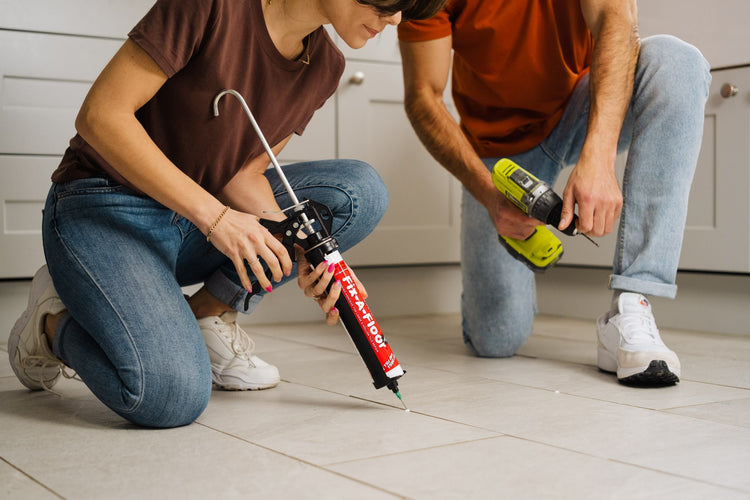 Caulk Gun from Fix-A-Floor
Caulk Guns from Fix-A-Floor
Types of caulking guns
There are a few different types of caulking guns, with two distinct varieties supplied by us here at Fix-A-Floor, each of which offers a range of uses and suitability for specific projects. Our standard caulking gun is the most commonly used type for small to medium-sized DIY projects. It is manually operated by gently squeezing the trigger to dispense the adhesive. It is ideal for filling small gaps and grout lines for flooring and wall tiles. We also supply a Large Contractors Caulking Gun which is ideal for the large tubes of Fix-A-Floor which are 3 times the size of a standard adhesive bottle. Our standard 10:1 thrust ratio caulk gun is also dripless, stopping the flow of adhesive and reducing any waste of the adhesive when the trigger is released.
Sealant application techniques 
How to use a caulk gun? 
Ensuring a uniform application of sealant requires a firm, gentle, trigger pull. The mechanical advantage provided by the caulk gun is known as the 10:1 dispense rate, which indicates that you receive 10 pounds of output force for each pull of the trigger. This facilitates easier and more efficient implementation, which is particularly helpful for big projects, therefore it's important to note, where you have a smaller hole at the tip slower, gentle pressure will avoid adhesive leaking from the rear of the tubes which will happen if you apply excessive pressure when applying adhesive.
Tips to avoid common issues 
Prevent adhesive overflow: To avoid adhesive overflow, apply slow, gentle, steady pressure. Cut the cartridge's tip to the largest size applicable to the hole you are filling. Start with a small hole as It's always possible to enlarge it if necessary. 
Maintain consistency: To guarantee an even application, strive to move the trigger of the caulk gun at a constant pace and pressure. 
Importance of sealants 
Sealants are incredibly versatile and can be used for a variety of tasks, including fixing loose or hollow floor tiles of varying materials, There are other sealants you can use for closing gaps around windows and doors and even stopping pipe leaks. The lifetime and durability of projects can be increased by properly applying sealants with a sealant gun, which protects from air, water, physical damage and even pests. You can find out more information on the importance of our Fix-A-Floor sealant for homeowners in our blog. 
Safety considerations 
While our caulking guns are incredibly safe and user-friendly, we recommend some safety precautions when operating them. Firstly, whenever cutting open our adhesive tubes, wear safety gloves and exercise caution to minimise the risk of injury. Also, don't force the caulking gun if the sealant is not coming out as excessive pressure could cause the cartridge to burst. Our adhesive is non-toxic, non-flammable and eco-friendly.
Choosing the right sealant 
You're in the right place for the best sealant on the market for fixing loose, creaky and hollow floor tiles. Our specially designed sealant is a versatile solution for home repairs and DIY enthusiasts, and our adhesive tubes can fit snugly in the caulking guns we have to offer. Our sealant is more than capable of being utilised on porcelain, laminate, wooden, stone and marble flooring as well as flooring with heating underneath.  
Maintaining and storing your caulk gun 
To ensure a long lease of life, make sure to clean off any residual adhesive on the caulking gun to prevent clogging. This helps with any future fixes you may need to do, and your caulking gun will be ready to use at a moment's notice.  
You can easily store your caulk gun in a cool, dry place along with the adhesive tubes, ensuring they are sealed properly to prevent them from drying out. Additionally, checking your caulk gun for any faults frequently will ensure it is working correctly.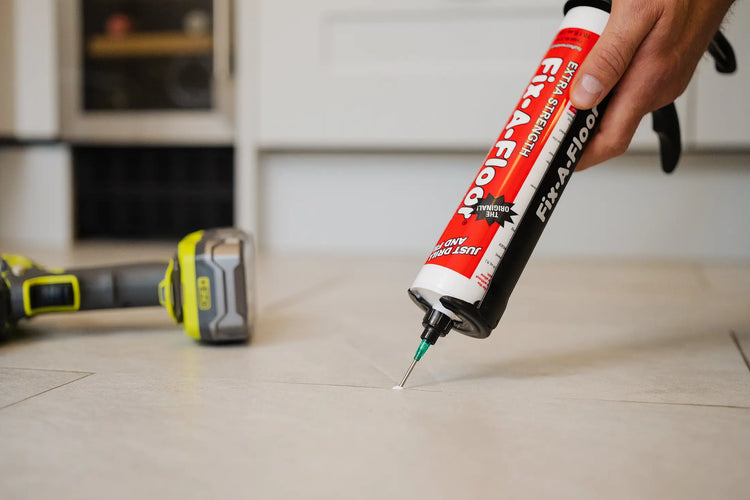 How to release the cartridge from the caulk gun?
Releasing the cartridge from the caulk gun is a simple process. First, release the pressure at the back end of the caulk gun by pressing the release tab to free the rod. Pull the handle all the way back, relieving any pressure on the adhesive tube. Finally, remove the adhesive tube from the compartment.  
Please note – when pulling the handle all the way back, do not pull the trigger at the same time.  
What does the thrust ratio mean? 
The thrust ratio compares the force you apply to the trigger to the force needed to push the adhesive material. Only manual guns are referred to by this phrase. Our Fix-A-Floor caulking gun is a 10:1 thrust ratio, meaning for every pound of force created by the user, ten times that is applied to the adhesive tube.  
What size of tubes can be used in a caulk gun? 
For our Fix-A-Floor caulk gun, our standard-sized 300 ml adhesive tubes are perfect and made smooth and easy to use. For our LARGE Contractors Caulking gun, it is only suitable for our larger 30 fl oz tubes, these have a larger nozzle too.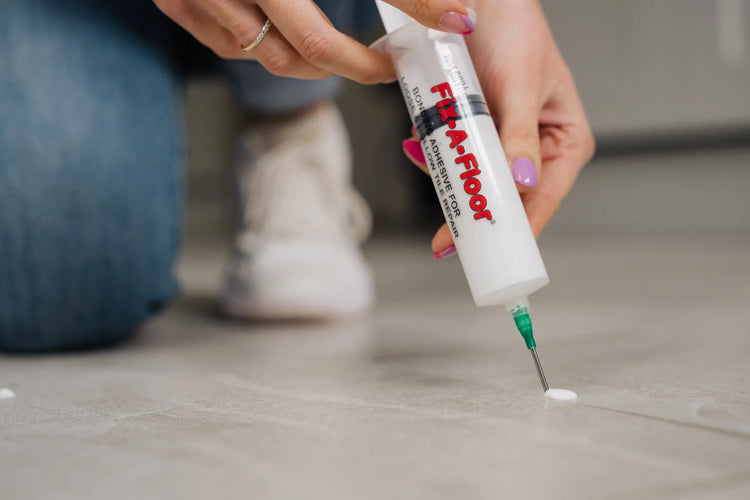 Does exactly what it says!
"Bought it to secure 3 loose tiles that were just laid rather than pull them up and relaying. Would recommend to anyone with the same problem."

Fab product, does exactly what it says.
Bought it to secure 3 loose tiles that were just laid rather than pull them up and relaying. Would recommend to anyone with the same problem, secured the tiles wonderfully, job done
Can't fault it. It worked
Used on a large 600mm by 600mm tile laid on concrete floor. Tile was moving probably due to the grout and tile adhesive coming away.
Applied it 2 months ago- as per instruction. It has not moved since."

Good product, easy to use, clear instructions.
Per previous reviews be careful when removing nozzle from hole at this point still very runny, but a finger over the nozzle stops it. Would agree with other users buy an extra tube , Was very pleased with the end results.
Excellent product, beats any other standard product in mainstream DIY stores.
The difference is this is liquid based and it filters through the hole with any assistance.
Expensive but definitely worth it.
Delighted!
I bought this product for my husband to fix a number of loose and hollow tiles in our bathroom.
He was absolutely delighted with the ease of use and the end result.
He would recommend this product to anyone with this problem as an efficient and relatively inexpensive solution.