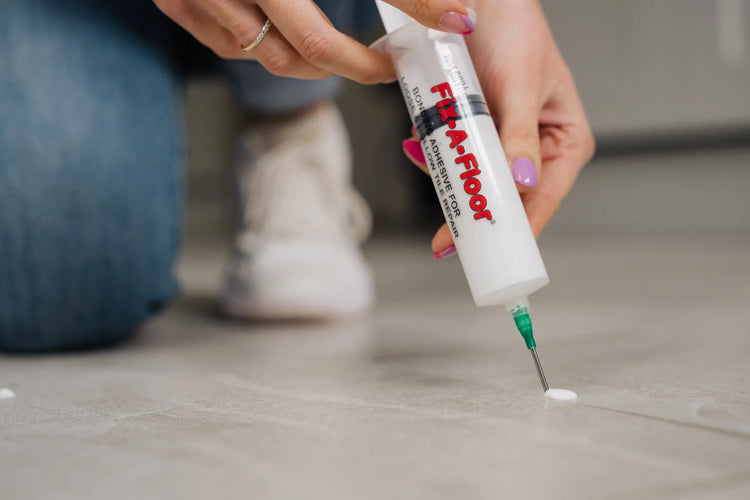 Does exactly what it says!
"Bought it to secure 3 loose tiles that were just laid rather than pull them up and relaying. Would recommend to anyone with the same problem."

Fab product, does exactly what it says.
Bought it to secure 3 loose tiles that were just laid rather than pull them up and relaying. Would recommend to anyone with the same problem, secured the tiles wonderfully, job done
Can't fault it. It worked
Used on a large 600mm by 600mm tile laid on concrete floor. Tile was moving probably due to the grout and tile adhesive coming away.
Applied it 2 months ago- as per instruction. It has not moved since."

Good product, easy to use, clear instructions.
Per previous reviews be careful when removing nozzle from hole at this point still very runny, but a finger over the nozzle stops it. Would agree with other users buy an extra tube , Was very pleased with the end results.
Excellent product, beats any other standard product in mainstream DIY stores.
The difference is this is liquid based and it filters through the hole with any assistance.
Expensive but definitely worth it.
Delighted!
I bought this product for my husband to fix a number of loose and hollow tiles in our bathroom.
He was absolutely delighted with the ease of use and the end result.
He would recommend this product to anyone with this problem as an efficient and relatively inexpensive solution.
What is It?
Fix-A-Floor Repair Adhesive "patented", is an Extra Strength Bonding Adhesive customised for the specific use of Re-Bonding loose and hollow tile, marble, stone & squeaky wood floors without the headache and mess of removing or replacing them.
Fix-A-Floor is a simple do it yourself repair that is fast, easy and affordable not to mention fun and quite rewarding to anyone who can operate a drill, caulking gun and mix up a small batch of grout. Works on all sub-floor materials.
The Tip
The rigid customisable tip of the of the 300ml tubes has everything you need! It has been specifically designed and engineered for the sole purpose of filling drilled holes in tile, marble, stone & wood floors to fit the exact size hole required!

The specially designed extra firm patented tip allows for a strong seal which promotes good flow and complete coverage. Even better you get 3 Tips in One! With clearly marked lines showing clear cutpoints of 1/8", 3/16", 1/4" it gives unrivalled "on The Fly" customisation for the smallest to largest holes! Before you start, simply cut the tip to the narrowest point you require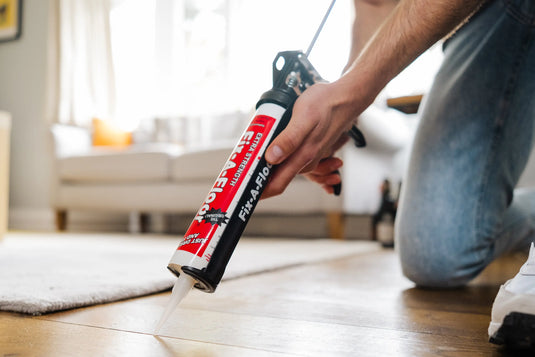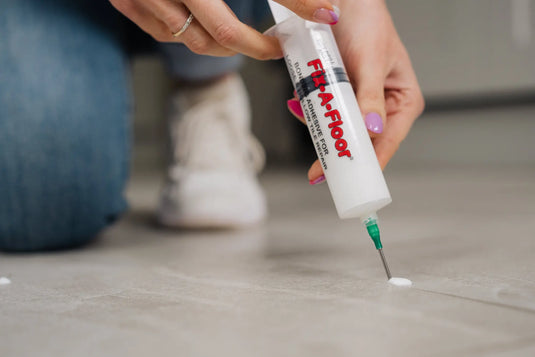 No Waste!
Every Tube comes with the specially designed Click-on Cap that retains any unused adhesive until next use saving on any wastage. Using this patented cap also means the tip remains clog-free in-between uses.

If you have super narrow areas, no grout line applications or wood you can also use our Fix-A-Floor Micro Syringe Injector Kit which comes with an extra-long 14 Gauge Blunt Steel Tip. For those really hard-to-reach areas where using a caulking gun may be difficult, we have a Syringe Kit which comes with the extra-long 14 Gauge Blunt Steel Tip, a spare plastic applicator tip and sealing cap to preserve any unused adhesive.
The Adhesive 
Fix-A-Floor Repair Adhesive is Strong & Flexible with elastomeric bonding properties to eliminate any future problems due to foundation settlement, expansion & contraction of the sub floor as well as poor original installation...
With over 12 years on the market and sold worldwide Fix-A-Floor is the go-to reliable way to repair loose & Hollow flooring. Used by professionals and DIYers, Large or small problematic areas are no issue with Fix-A-Floor! Fix-A-Floor is Non-Toxic, Non-Flammable & Eco-Friendly and is guaranteed to last for the life of your floor! Just Drill & Fill!
 
Fix-A-Floor extra strength bonding adhesive for loose and hollow floor tiles is available with standard tips and in special precision micro-syringe adapter kits in single bottles, packs of 3, packs of 4, packs of 6 or in boxes of 12 – For even better results we recommend our 10:1 thrust ratio Caulking Gun available in the store.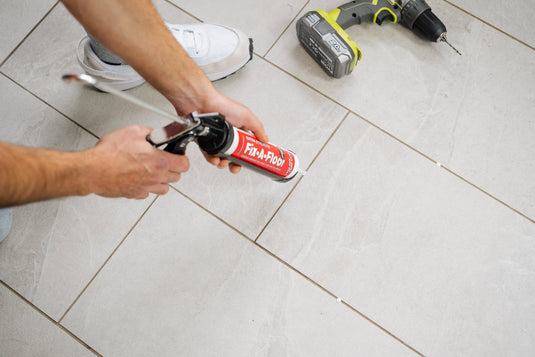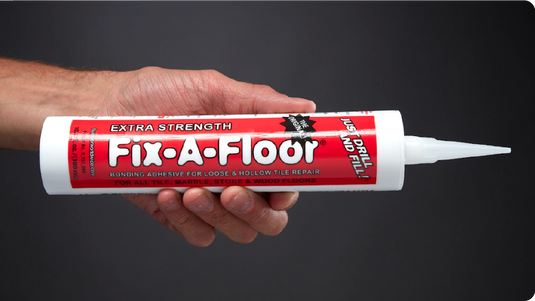 Fix-A-Floor Repair Adhesive
Are you having trouble with your tiles or flooring at home? Fix-A-Floor can offer you a solution different to simply replacing loose or hollow floor tiles, with this super strong Fix-A-Floor Repair Adhesive. All you need to do is simply apply little drilling and filling to your current tiles, and they will seem like new again!
HOW TO USE
Just Drill & Fill!
To apply the adhesive, you simply drill holes in the grout around the tiles and, with use of a caulking gun, then inject the extra strength bonding adhesive directly. You then need to let it dry over 24 hours, before finishing the process by re-grouting the drill holes you previously made, it really is just a drill & fill exercise.
WATCH THE VIDEO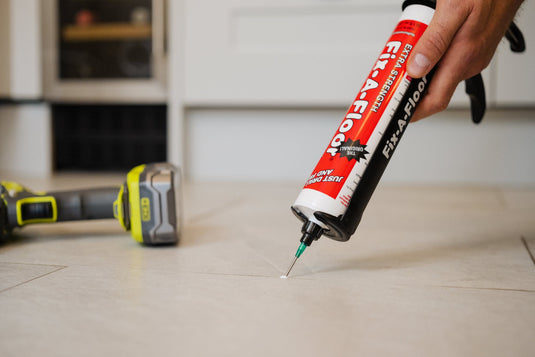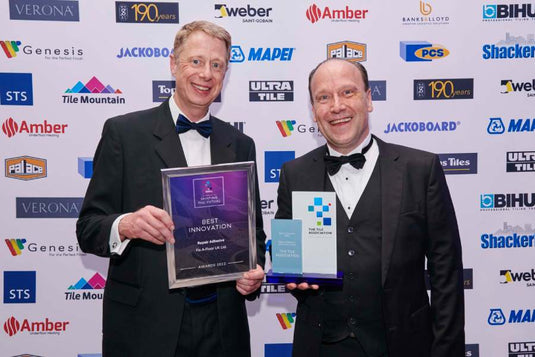 Topps Tiles CEO Rob Parker Presents Fix-A-Floor with the Best Innovation 2023 Award
Fix-A-Floor scoops the Best product Innovation award at the annual Tile Association 2023 awards after impressing the judges selected from a wide range of sectors within the Tiling industry. A fiercely competitive category saw Fix-A-Floor as overall winner against 7 other
innovative products. Quite aptly, the theme to the awards was "Shaping the Future" something that Fix-A-Floor has always been a huge part of, which was recognised by the Tiling industry.
VIEW OUR STORY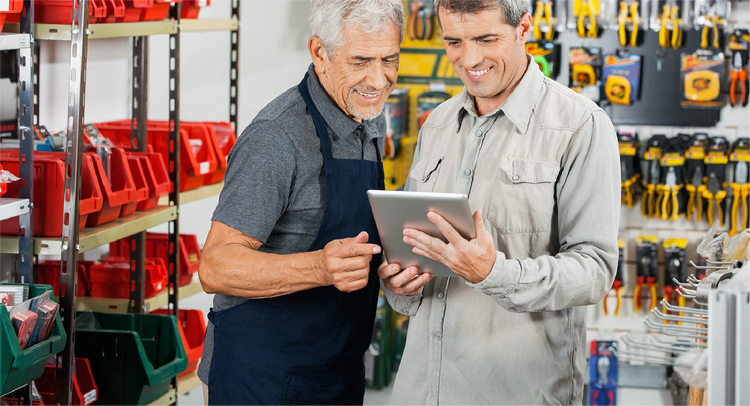 LOCAL STOCKISTS
FIND A STORE
Buy now from a Fix-A-Floor stockist near you
JUST DRILL & FILL!
WE'VE GOT YOU COVERED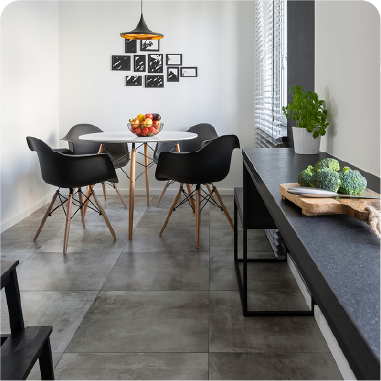 Works on all Floors
Fix-A-Floor extra strength repair bonding adhesive suitable for tile, marble, porcelain, stone or wooden floors. It even works on surfaces with underfloor heating.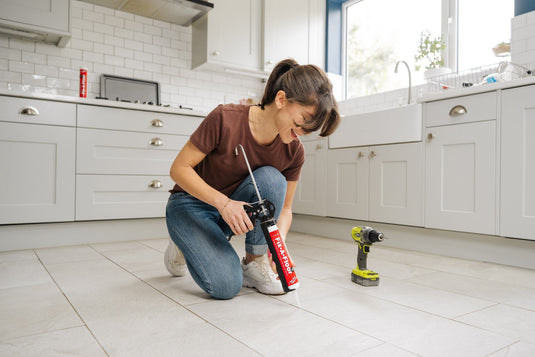 Fast, Easy to Use
When you need to make a heavy-duty repair in a matter of minutes. This adhesive is ideal when you only have a short time to make long-lasting repairs and easy application.
Eco-Friendly
Fix-A-Floor does not contain toxic substances and has an extremely low viscosity. Having no hazardous, environmental or ecological impact. Unlike other mastics.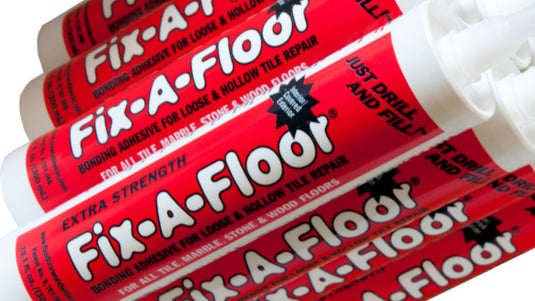 Save Money
Fix-A-Floor repair adhesive provides you with a cost effective alternative, without replace your problem tiles or flooring, it can become a costly process.