Ideal for restoration work, fixing loose or hollow flooring and preventing damage to tiles such as cracked or broken tiles. Fix-A-Floor's tile repair kit contains all the tools you need.
What is a tile repair kit? 
A tile repair kit is exactly what it sounds like, the necessary tools to fix your loose and hollow tiles. We supply our extra strength bonding adhesive of 300 ml with standard tips, as well as micro-syringe adapter kits. Our tubes are also available in packs of 3, packs of 4, packs of 6, or in boxes of 12. Our tubes are ideal for our 10:1 thrust ratio caulking gun. 
What is the lifespan of a tile repair kit? 
Our tile repair kits are designed to last a lifetime with proper use. Our adhesive utilises clip-on caps ensuring minimal waste. Each 300 ml tube will cover approximately 4 sq ft and has been designed to flow freely underneath flooring until it exits from the holes you have drilled. With proficient care and cleaning of our accessories, your tile repair kit will last for the foreseeable future.
Why choose our tile repair kits? 
Quality Assurance: Our tile repair kit is of the highest calibre. Our specially formulated creaky floor adhesive has undergone extensive testing to ensure it is the best at fixing loose, hollow and creaky floor tiles. Our repair kits come with well thought -out equipment that guarantees a seamless and durable repair. By using our kit, you can restore a tile's integrity with the assurance of unrivalled quality.
DIY Convenience: We understand that hiring professionals can be an expensive and time-consuming process. You become the expert with our tile repair kits. Every kit includes the necessary tools to make repairs easy, even for inexperienced DIYers. The days of waiting for a professional visit are long gone as you can solve loose tile problems as soon as they occur. Save time and hassle by using our floor adhesive repair kit.
Versatile Solutions: There is a wide range of materials and finishes available for floor tiles. Our tile repair kits and floor adhesive have been created to accommodate a variety of tile types. Whether you have porcelain tiles in your bathroom or ceramic tiles in your kitchen, our kit provides a one-stop solution. Its adaptability and versatility make it an essential tool for every household.
Budget Friendly: Home repairs can often burn a hole in your pocket, but with our tile repair kits, you'll be saving on expenses dramatically. With our affordable repair kits, you can solve the problem at a lower cost than replacing your tiles or hiring an expert. Your investment is protected using our squeaky floor adhesive, ensuring you're getting the best value for your money. Repairing tiles or flooring shouldn't break the bank, and with our kit, it won't.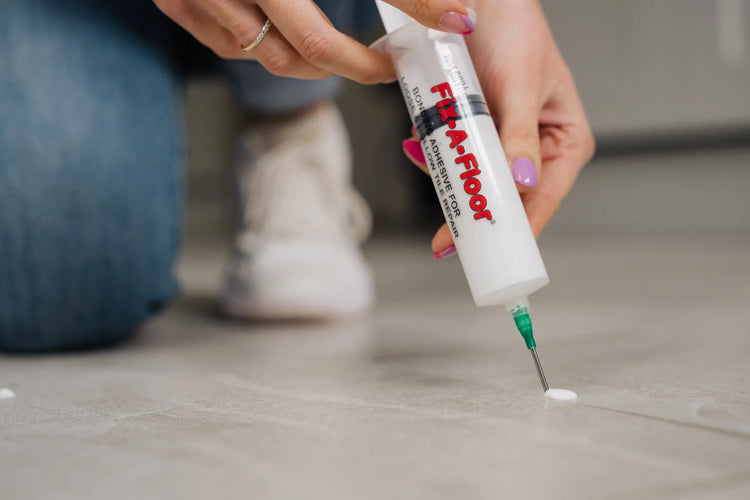 Does exactly what it says!
"Bought it to secure 3 loose tiles that were just laid rather than pull them up and relaying. Would recommend to anyone with the same problem."

Fab product, does exactly what it says.
Bought it to secure 3 loose tiles that were just laid rather than pull them up and relaying. Would recommend to anyone with the same problem, secured the tiles wonderfully, job done
Can't fault it. It worked
Used on a large 600mm by 600mm tile laid on concrete floor. Tile was moving probably due to the grout and tile adhesive coming away.
Applied it 2 months ago- as per instruction. It has not moved since."

Good product, easy to use, clear instructions.
Per previous reviews be careful when removing nozzle from hole at this point still very runny, but a finger over the nozzle stops it. Would agree with other users buy an extra tube , Was very pleased with the end results.
Excellent product, beats any other standard product in mainstream DIY stores.
The difference is this is liquid based and it filters through the hole with any assistance.
Expensive but definitely worth it.
Delighted!
I bought this product for my husband to fix a number of loose and hollow tiles in our bathroom.
He was absolutely delighted with the ease of use and the end result.
He would recommend this product to anyone with this problem as an efficient and relatively inexpensive solution.