The solution for your hollow and loose floors is here – explore our floor repair kits containing our best-selling Fix-A-Floor Adhesive.
Why choose our floor repair kits? 
Comprehensive solutions: Our floor repair kit is extremely versatile and can be used on a wide range of floor materials, including wood, porcelain, marble, stone, ceramic, and floors with underfloor heating, providing you with tailored floor repair solutions for different material types.  
Do-it-yourself excellence: Our easy-to-use floor repair kit eliminates the need of hiring costly professionals, making our repair kit a DIYer's dream. We empower you to become your own repair expert, saving you time and money. 
Long-lasting results: The Fix-A-Floor Adhesive will last a lifetime once set, ensuring your floor repairs stand the test of time. Compared to other re-bonding adhesives and floor repair products, Fix-A-Floor guarantees lasting results and having sold millions of bottles Worldwide for well over a decade the results and longevity speak for themself!!
The solution for your hollow and loose floors is here – explore our floor repair kits containing our best-selling Fix-A-Floor Adhesive. 
What are the benefits of a floor repair kit?
The benefits of our floor repair kit include:
The benefits of our floor repair kit include: 
All tools and equipment necessary for a good repair are included. 
Fix-A-Floor Adhesive with elastomeric properties combined with low viscosity. 
Can be used to fill holes drilled in tile, marble, stone and wood floors. 
Compatible with drill bits 1/8", 3/16" and 1/4". 
Can be used with any standard caulking gun. 
Use our 60ml syringe kit with a flat stainless-steel needle for thin grout lines. 
Re-use our floor tile repair kits again and again with easy cleaning. 
The greatest benefit of our floor repair kit is you'll be able to fix your loose floors without the hassle of completely removing and replacing them. 
A step-by-step guide: How to use our floor repair kits
No matter if your floor tiles are squeaky, loose or hollow, our floor repair kit will get the job done. The best thing about it – it's so easy to use! 
Preparation 
Gather the floor repair kit and all other materials you might need. Locate your loose, squeaky or hollow floor tile and find the grout lines that will need to be drilled. We recommend sectioning off the area that needs fixing with tape or chalk.  
Drill the grout lines 
Take an electric drill with a 2.5mm (or smaller) drill bit and drill holes – we recommend two to three – on the grout lines until you reach underneath the floor tiles. (You can drill as many holes as you need in the grout, the trick is to locate those voids) Next, vacuum the debris from the drilling to ensure a clear entry point for the adhesive to enter. Depending on the size of your grout lines, you may have to use a smaller drill bit. 
Application of adhesive 
Pull off the cap and unscrew the tip of the adhesive tube. Cut the tip according to the size you require. Our tubes are compatible with 1/8", 3/16" and 1/4" drill bits. If the hole is bigger than 1/8" then simply cut the tip to ensure a proper fit into the drilled hole. Load the adhesive tube into our quality 10:1 caulk gun and insert the tube end into the drilled hole. Slow and steady wins the race – so for the best results, go easy and gentle when using the caulk gun. Once you have provided enough adhesive underneath the floor tiles, the adhesive will begin to flow out of the holes. Now it's time for the next step, the cleanup. 
Cleaning up and allowing the adhesive to set 
If you haven't used the entire tube of adhesive there's no need to worry. Simply pop the cap back on and save the adhesive for any future repairs. Our adhesive solution is easy to clean up – simply grab a damp cloth or sponge and wipe away. Next comes the crucial step of applying weight to the floor tile you have fixed. We recommend using a bucket filled halfway with water, but any other substantial weight will work. Place the weight on the floor tile that you have fixed and allow it to cure (harden) for 24 hours.  
The last step is to apply your grout holes with a matching colour grout which can be pressed into the holes with a finger. After about 15 minutes, use a damp cloth or sponge to help blend the grout in and allow it to dry.  
Congratulations! You've just successfully fixed your floor tile using our floor tile repair kit.
Maintenance tips 
Maintaining your floor on a regular basis will help, not only to keep them looking good but also to ensure they last without major issues for years to come. At Fix-A-Floor, we don't just supply the best floor repair products for fixing your hollow, creaky, and loose floor tiles – we provide the top maintenance tips to give you insight into keeping your floors beautiful all year round. 
Vacuum hard surfaces carefully: Hard floor materials, such as wood, laminate or vinyl, must be treated with care when vacuuming, as frequent hard knocks can easily damage your floor tiles. 
Keeping a consistent temperature: Changes in temperature and humidity can cause tiles and floorboards, especially in wood, to crack, shrink and expand leading to gaps and cracks. If possible, try and mitigate the dramatic changes in temperature by using humidifiers and dehumidifiers. 
Regular cleaning: Having a routine where you effectively clean your floor tiles will keep them free from dust, dirt and other contaminants which can lead to scratches and denting.  
Lift, don't drag furniture: Never drag your furniture across your floor - always lift as the former will lead to indentation.  
Fix-A-Floor always aims to provide our customers with floor repair solutions for all types of floor materials.  
Different scenarios, one solution 
Do you have hollow floor tiles, squeaky wooden boards, or loose laminate flooring? The Fix-A-Floor repair kit is the perfect solution. Equipped with the necessary tools and tip sizes you'll need, you can use our cost-effective, easy-to-use repair kit with confidence on a wide range of floor material types.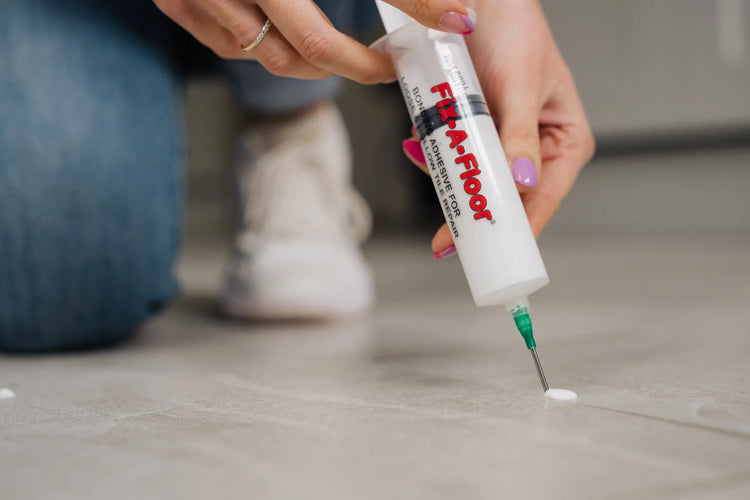 Does exactly what it says!
"Bought it to secure 3 loose tiles that were just laid rather than pull them up and relaying. Would recommend to anyone with the same problem."

Fab product, does exactly what it says.
Bought it to secure 3 loose tiles that were just laid rather than pull them up and relaying. Would recommend to anyone with the same problem, secured the tiles wonderfully, job done
Can't fault it. It worked
Used on a large 600mm by 600mm tile laid on concrete floor. Tile was moving probably due to the grout and tile adhesive coming away.
Applied it 2 months ago- as per instruction. It has not moved since."

Good product, easy to use, clear instructions.
Per previous reviews be careful when removing nozzle from hole at this point still very runny, but a finger over the nozzle stops it. Would agree with other users buy an extra tube , Was very pleased with the end results.
Excellent product, beats any other standard product in mainstream DIY stores.
The difference is this is liquid based and it filters through the hole with any assistance.
Expensive but definitely worth it.
Delighted!
I bought this product for my husband to fix a number of loose and hollow tiles in our bathroom.
He was absolutely delighted with the ease of use and the end result.
He would recommend this product to anyone with this problem as an efficient and relatively inexpensive solution.