Fix-A-Floor wins Best Innovation Award 2023 at the Tile association Awards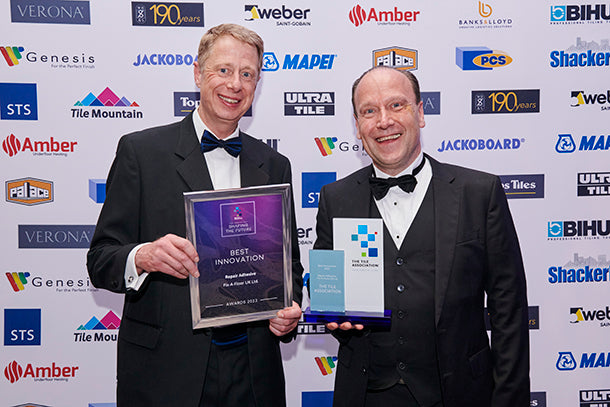 Fix-A-Floor is unbelievably proud to be presented with the Best Innovation 2023 award at The Tile Association annual awards. The award was presented to us by Rob Parker CEO of Topps Tiles PLC.
Fix-A-Floor is a revolutionary repair adhesive to repair loose & hollow tile floors as well as creaky wooden flooring without the need to remove or replace them! 
The key to the product's effectiveness is its combination of a very powerful and flexible adhesive with elastomeric properties, combined with an extremely low viscosity prior to curing. This means that it will flow under a tile completely filling the void underneath it and ensuring an end to wobbly and loose tiles – which are obviously more prone to breaking, if not fixed down quickly.
Sold in the UK since 2014 Fix-A-Floor UK is the market leader in floor repair which is now available in over 50 countries worldwide.
Run by The Tile Association, the TTA Awards celebrates and recognises the best in the wall and floor tiling industry in the UK, including outstanding products, people, businesses, and projects. The theme for this years awards was Shaping The Future! Fix-A-Floor is proud to be a part of that future!