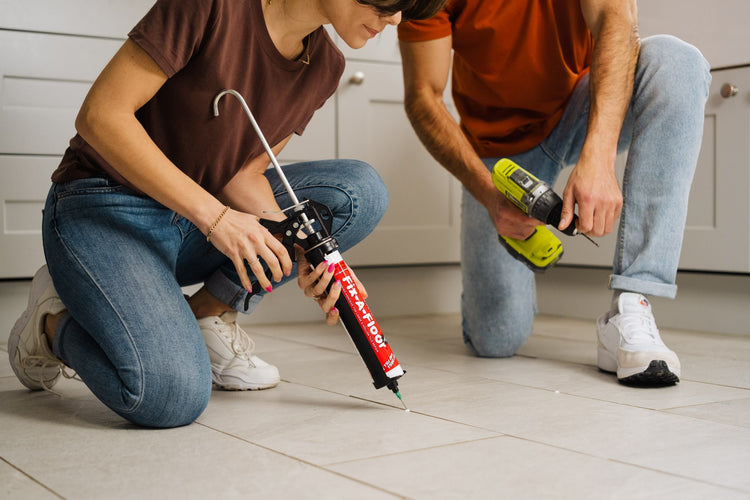 Laminate Floor Repair Kit
What's included in the laminate floor repair kit? 
Included in our laminate floor repair kit is our highly regarded Fix-A-Floor adhesive as well as all other pieces of kit you'll need for securing hollow laminate flooring. Laminate floor repairs are made easy with our sophisticated floor gap fixer and will save you the hassle and costs of tearing up your flooring and replacing it.  
Choose our Fix-A-Floor Pro Repair pack – which includes our adhesive, micro precision adapter, 60 ml syringe kit for those hard-to-reach areas as well as our 10:1 ratio caulk gun. 
Our superior laminate floor injection kit is more than capable of working with thin gaps, thanks to the precision kits and 60ml syringe included, which gives you everything you could possibly need to complete the job.  
Order your laminate floor gap fixer with FREE delivery to get your floors looking as good as new. 
You can also explore our supply of Fix-A-Floor adhesive, which is ideal for all types of floor and tile materials when fixing loose and hollow tiles.  
How to use the laminate floor repair kit 
Using our laminate floor repair kits is simple, as Fix-A-Floor has streamlined our products so even the most novice DIY enthusiasts can use them effectively. Follow these laminate floor repair instructions: 
First off, you will need to decide whether you want to use the adhesive in the included 10:1 ratio caulk gun, or if you have rather thin grout lines, for a more precise, controlled application load the 60 ml syringe – part of our laminate floor injector kit – with our adhesive. The syringe is especially useful for hard-to-reach areas, like corners, where operating the caulk gun could be difficult.  
The next step in laminate floor repair where you have creaky or moving floorboards is to drill some small holes in your laminate floor in the affected area.
Then, take off the cap of the adhesive tube and load it into the caulk gun. Insert the tube into the drilled holes and slowly squeeze the caulk gun trigger or syringe to allow a steady stream of adhesive to fill the holes.  You can also use the micro-precision adapters or purposely designed 60ml syringe kit when fixing laminate floor gaps, for precise application as Fix-A-Floor dries clear. 
Wipe away any excess spillage on the floor with a non-abrasive damp cloth. Don't worry, the Fix-A-Floor Adhesive has been designed to be easily cleaned from all types of floor materials.  
All that's left to do now is allow the adhesive to cure for at least 24 hours and place weighted object, like a bucket of water, on the area you've applied. Once cured you can apply a matching wood-filler to the holes drilled to camouflage the repair. DIY laminate floor repair has never been so simple! 
Benefits and features 
Our laminate floor repair kits are the best cost-effective solution on the market, saving you from emptying your wallet for replacement laminate floorboards. Our laminate floor repair kit includes all you could ever need for DIY laminate floor repair and more, as our adhesive and products can be used on a wide range of other floor materials, such as porcelain, stone, marble and wood. All our adapters and kits are reusable with caps that can be put back on the tubes to be used again when you need to, simply wash/soak them in warm water and reuse!
Common laminate floor problems 
Some of the most common issues with laminate floors include: 
Warping or swelling due to exposure to moisture and liquid spills. Unlike real wood, laminate cannot recover its shape once it has swollen. 
Buckling and peaking can occur due to moisture issues also, and the laminate floorboards will push up against each other causing them to rise up.  
Laminate floors can chip, especially at the edges, because of wear and tear, from dropped objects and poor-quality laminate.  
Over time, gaps might appear between planks due to fluctuations in temperature. Floor gap repair can be achieved with Fix-A-Floor Adhesive. 
If the subfloor wasn't properly prepared or is uneven, it can result in an uneven laminate floor installation. 
Maintenance tips 
Preventing these problems often requires proper installation, using good quality underlayment, maintaining a controlled indoor environment and ensuring immediate clean up of spills. Regular care and maintenance can also help prolong the life of laminate floors and keep them looking their best.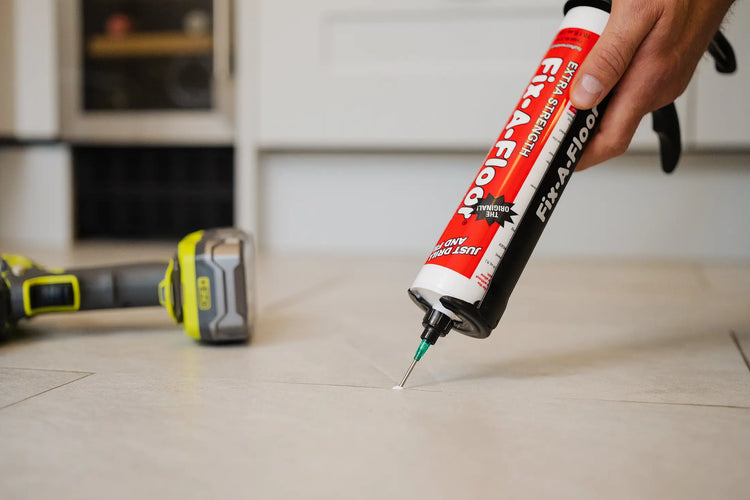 Laminate Floor Repair Kit
FAQs
Why does laminate flooring get damaged? 
The typical ways laminate flooring can get damaged include heavy furniture being dragged or dropped causing scratches or gouges, water damage from leaks, spills or high humidity, as well as incorrect installation. Using improper adhesives will result in loose, uneven-laid laminate, which can cause tears and rips at the seams over time. Other ways it can become damaged also include exposure to UV rays that will discolour the flooring over time. 
A great solution to fix loose or hollow laminate flooring is to use Fix-A-Floor adhesive. 
A great solution to fix loose or hollow laminate flooring is to use Fix-A-Floor adhesive. 
How to repair laminate flooring?
Depending on the type of damage sustained to your laminate flooring, there are several means to repair it. Cleaning your laminate floors will involve using a soft cloth or mop and a mild cleaning solution to get rid of any dirt or debris. For loose and hollow flooring, a laminate floor repair kit is the best option. Larger damages, such as tears, might require you to replace the damaged section of the floor. Sealing seams that have come apart over time can be fixed with Fix-A-Floor adhesive – for more information on how to use our strong repair adhesive, visit our guidance page.  
Can you repair laminate flooring? 
Depending on the type of damage sustained, we can supply you with the means to repair your laminate floor with our laminate floor repair kit. Generally, loose or hollow laminate flooring can be repaired using simple methods and solutions such as Fix-A-Floor adhesive. We also have helpful guides on how to use our products and are always a phone call away for any questions you might have. Give us a call on 0121 270 8883.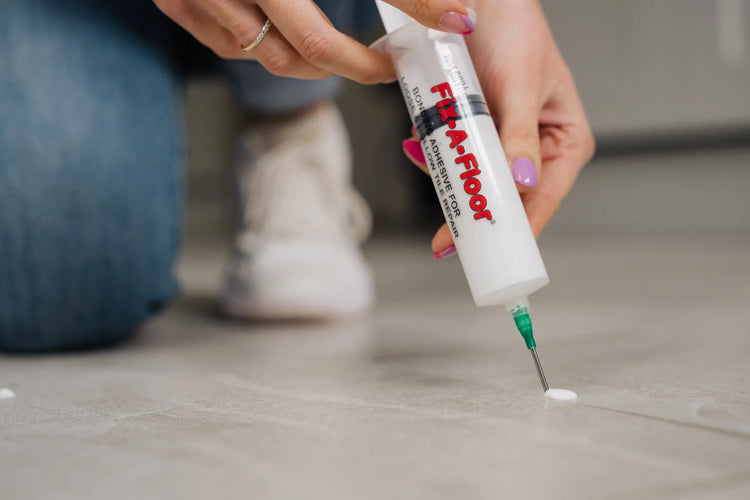 Does exactly what it says!
"Bought it to secure 3 loose tiles that were just laid rather than pull them up and relaying. Would recommend to anyone with the same problem."

Fab product, does exactly what it says.
Bought it to secure 3 loose tiles that were just laid rather than pull them up and relaying. Would recommend to anyone with the same problem, secured the tiles wonderfully, job done
Can't fault it. It worked
Used on a large 600mm by 600mm tile laid on concrete floor. Tile was moving probably due to the grout and tile adhesive coming away.
Applied it 2 months ago- as per instruction. It has not moved since."

Good product, easy to use, clear instructions.
Per previous reviews be careful when removing nozzle from hole at this point still very runny, but a finger over the nozzle stops it. Would agree with other users buy an extra tube , Was very pleased with the end results.
Excellent product, beats any other standard product in mainstream DIY stores.
The difference is this is liquid based and it filters through the hole with any assistance.
Expensive but definitely worth it.
Delighted!
I bought this product for my husband to fix a number of loose and hollow tiles in our bathroom.
He was absolutely delighted with the ease of use and the end result.
He would recommend this product to anyone with this problem as an efficient and relatively inexpensive solution.