How to Fix Your Floor Like a Pro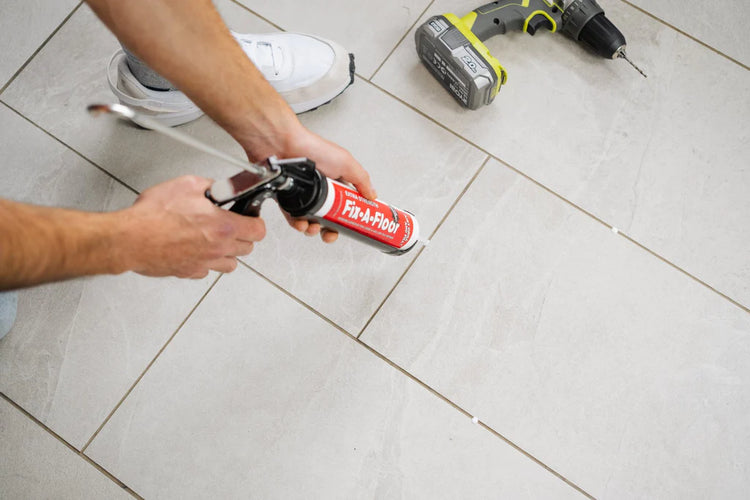 When something goes wrong in our home, we want to find the quickest, cheapest and most effective solution. With floor repairs, it can be a worrisome time with thoughts of having to completely tear up and replace your flooring, which doesn't come cheap. Sometimes we do all we can to keep a well-maintained floor but, out of nowhere, the need to fix creaky floors, hollow tiles and squeaky floorboards arises.
We are here to help explain how to fix your floor like a pro using the very best, user-friendly solutions. Your damaged tiles will be a thing of the past! 
Why professional-grade solutions matter 
Floor repair of any kind requires professional-grade solutions to provide a permanent fix that mitigates the problem getting worse further down the line. Many are unaware of the professional solutions out there that don't require extensive floor replacements. There are long-lasting results that cost a fraction of what would entail with a contractor coming into your home or buying replacement tiles yourself. With these innovative, alternate solutions, you'll be the professional in control of your tile repairs.
You may be apprehensive about stepping into the shoes of a professional floor repair person, sceptical that you don't have the required skill to fix squeaky floors or afraid you may cause further damage. With the professional-grade solution we have, these worries can be cast aside with a guarantee of permanent, cost-effective and easy-to-use quality with the satisfaction that our Adhesive has been used worldwide to repair loose or hollow flooring for well over a decade making us the market leader and trusted brand for floor repair.
Fixing creaky and squeaky floors 
So, what causes a creaky, squeaky or hollow floor, and how do you fix it? Several causes can lead to these types of problems. Firstly, older homes are more susceptible to creaky floor tiles as the house over time will settle as well as obtain more general wear and tear. Temperature and humidity can also cause wooden floorboards to expand, bend and contract, leading to creaks.  
Unfortunately, sometimes poor installation of floorboards and subfloors can lead to squeaking, creaking and other issues, as moisture can more easily enter the subflooring, leading to warping and rot. Other common causes include loose nails or screws and gaps between floorboards that rub against each other leading to these annoying problems.  
Some of the most common areas of your flooring where these issues will occur are areas such as your staircases due to frequent use and pressure, sections of flooring that see a lot of foot traffic, areas where the home settles and shifts like walls and corners, transitional areas where different materials meet, underneath furniture and the spaces where floorboards or the subfloor are secured to joists.  
As a DIY enthusiast, there are a few ways to fix these issues once the problem has been identified. Tightening screws or nails could resolve the problem, or adding additional fasteners can sometimes secure the boards to the subfloor, but often the need for replacing boards or sections will have to take place to get to the root of the problem. 
The real hero is the Fix-A-Floor adhesive which is the perfect solution for these types of problems, allowing you to be a pro-repair person in your very own home. It's an easy-to-use adhesive that sets in a quick 24 hours, securing your tile repair issues. It does exactly what it says on the tin – well the tube!
The adhesive can be easily injected into drilled holes in the grout lines around your problem tiles, filling the space where the floor is loose, bending, warping and causing the problem. It's superb because anyone can use it – from DIY amateurs to aficionados – this amazing solution will ensure a professional finish and repair that can potentially save you thousands of pounds in costly alternatives.
Tile and floor repair 
Damaged tiles and floor surfaces are not just an eyesore; they can also pose a safety risk. Tiles that are cracked or loose can cause trips and falls, while chipped portions can reveal sharp edges. Moisture can enter through cracks, causing mould and mildew to grow or possibly causing damage to the subfloor and underlying structures. Ignoring these difficulties may lead to larger, more expensive problems in the future. Furthermore, damaged flooring can diminish the value of your home greatly.  
Before fixing any issues, it's important to wear some protective gear, including gloves and safety goggles, as when drilling your grout lines, debris or sawdust could fly into your face. Our famous adhesive is nontoxic, non-flammable and eco friendly and can be easily cleaned with a damp cloth and warm water. 
For the repair, make sure you have the following tools and supplies: 
The Fix-A-Floor Adhesive 

A 10:1 thrust ratio caulking gun 

A made-up batch of grout 

A drill

A sponge or nonabrasive cloth

A vacuum for any debris

Some type of weight, such as a bucket of water 
How to fix your floor
using the adhesive: 
Drill holes in the grout lines of the affected area and vacuum any dust or debris. 
Fit the tube tip into the drilled holes and use a caulk gun, squeezing slowly to fill the holes with the adhesive.  
When the adhesive spills up and out of the holes, you'll know the area is filled. 
Wipe away any excess adhesive with a cloth. 
Place a weighted object on the areas you've repaired and allow the adhesive to cure for at least 24 hours. 
Press your grout into the drilled holes and use a damp cloth to smooth and blend into the existing grout. 
For an even easier time and allowing for expert precision, there are tile repair kits and porcelain tile repair kits available too.  
Pro repairs made easy with Fix-A-Floor 
Repairing your tiles, creaky floors and hollow tiles doesn't have to be difficult. These types of repairs must be fixed as soon as possible, otherwise, you could be faced with further issues that cost an arm and a leg, and your time, to resolve. Fix-A-Floor will not only make you feel like a pro but also turn you into one when it comes to tile and floor repairs. You'll be able to assess the problem and resolve it efficiently, all in a user-friendly manner.  
Explore our professional floor repair products for the best, most cost-effective solution for floor repair issues.